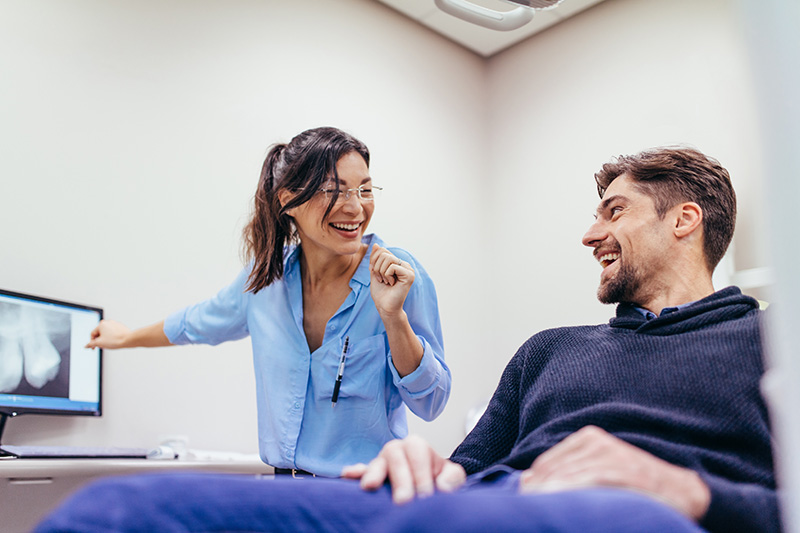 Choosing the right dentist for you & your family can be a daunting task, particularly if you're new to an area. You want to build a long-term, trusted partnership with your practitioner so it's worth doing a little research so that you make the right match. 
Firstly, look for a dentist that accepts your health plan. If you have an HMO for example, your choices may be limited to members of the HMO network. A PPO may give you more options, but can affect your co-payments if you go out of network. Many dentists will offer financing options or affiliate themselves with companies that do, making paying for dentistry easier over time.
If you're stuck, then ask for a recommendation. Neighbors & co-workers can be very insightful, particularly if you've recently relocated. You can also ask your current dentist who may well know of somebody that would suit you, even if you're moving many miles away. The American Dental Association (ADA) publishes an extremely helpful list of members that you can view on their website. An internet search of local dental associations will also give you some great places to start.
Think about location & hours. Your dentist should be conveniently located for you & have hours that fit your busy schedule. You want to go regularly &, most importantly if you're a nervous patient, you want to minimize excuses not to go. Think not just about how conveniently located they are, but also about how easy it is to contact their office to make or reschedule an appointment. Do they pick up the phone promptly? Can you book an appointment easily on their website?
When you have a list of potential dentists, make an appointment for a consultation. Going into the office will give you a feel not just for the dentist, but also the entire staff & the overall cleanliness & organization of the office.  If you are planning on having a specific dental issue treated, the visit will give you an opportunity to evaluate the dentist's areas of expertise & whether the practice meets your needs as well as those of your entire family.
Think of some specific questions to ask your potential dentists & compare your notes accordingly. You might want to ask how they handle emergencies, for example, or the wait time for an appointment. Make sure you inform them of any concerns you might have & ask them to talk over any procedure they might offer that could be a benefit to you. It might be a good idea to bring your current records with you if you have them, so that the dentist can give you some insight that might influence your future relationship.
Your dentist wants to build a long-term relationship with you as much as you do with them.  Dentists are medical professionals who not only care about your overall well-being, but are often the first to spot the first symptoms of broader health issues. A little research & comparison should assure you that you've made the right choice & that you can be confident in the guidance you receive when you go in for the first of many routine appointments.
Call us today with any questions or to book your appointment!
Houston: 281-497-7911
Invisalign® is the revolutionary way to help you get even, straight teeth without noticeable, painful metal braces.
Digital x-rays are computer-generated images that require up to 90% less radiation than conventional film-type x-rays.
Fix discolored, chipped or crooked teeth quickly & easily with natural-looking veneers.
Ready to Book Your Appointment?
At Soft Touch Dental Spa, we have convenient hours that won't make you miss work or school.
Monday: 8am-8pm
Tuesday: 8am-5pm
Wednesday: 8am-8pm
Thursday: 8am-8pm
Friday: 8am-5pm
Saturday: 9am-4pm
Sunday: 9am-3pm
Soft Touch Dental Spa is proud of the warm & attentive dental care we provide our patients. Using the latest procedures & technologies, we provide comfortable, health-centered dentistry. We enjoy becoming acquainted with your individual needs & we take pride in always explaining the treatment options available to you.